Mensagens recentes
1
« Última mensagem por HSMW em Hoje às 10:49:55 pm »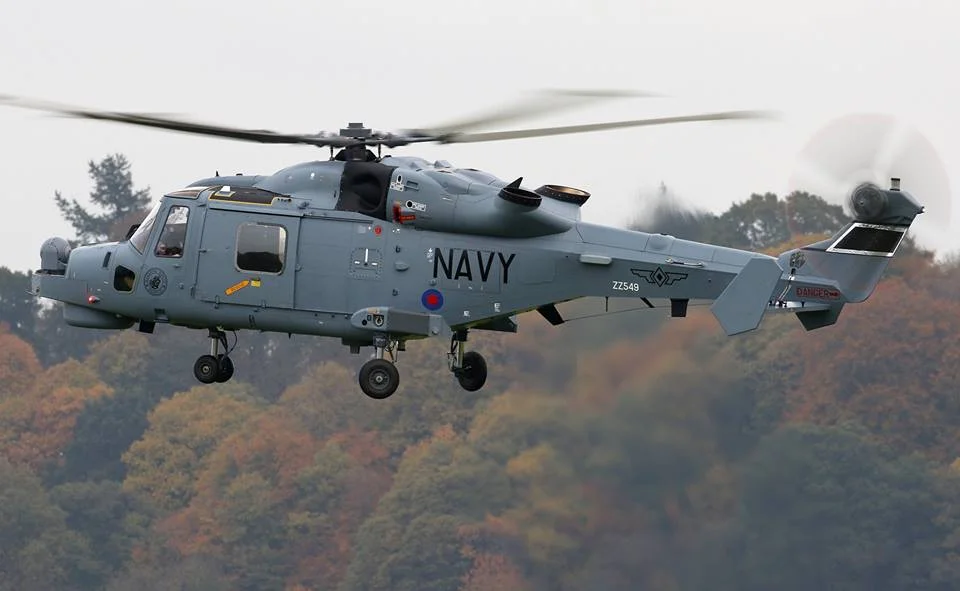 2
« Última mensagem por tenente em Hoje às 10:14:57 pm »
Excalibur Army eyes Indonesian requirements with Pandur II CZ
Christopher F Foss, London - Jane's International Defence Review 14 November 2018
The Pandur II CZ configured as an infantry fighting vehicle and fitted with ARES remote-controlled turret armed with 30 mm MK44 dual feed cannon and co-axial 7.62 mm MG. It is also fitted with the French Matravib Pilar V acoustic gunfire detection system on the turret roof. Source: Christopher F Foss
Czech company Excalibur Army has developed a new version of the 8×8 Pandur II CZ armoured fighting vehicle (AFV) called the Pandur II CZ Fire Support Vehicle (FSV), which has recently undergone trials in Indonesia alongside an infantry fighting vehicle (IFV) variant.
The Pandur II CZ FSV is fitted with the Belgian CMI Defence CT-CV 105HP turret, which is armed with a 105 mm rifled gun fitted with a thermal sleeve, fume extractor, and muzzle brake. The gun is fed by a bustle mounted automatic loader that holds ready for use 105 mm ammunition.
The turret also features a co-axial 7.62 mm machine gun (MG) and an additional MG mounted on the left side of the turret roof. It is also provided with a bank of four electrically operated smoke grenade launchers.
A computerised fire control system (FCS) is fitted, with the commander and gunner equipped with stabilised day/thermal sights and a laser rangefinder. A commander's panoramic sight is installed on the right side of the turret roof and enables hunter/killer target engagements to take place.
In addition to firing conventional natures of 105 mm ammunition, the 105 mm gun can also fire a Falarick laserguided projectile out to a maximum range of 5,000 m.
It has a high elevation of up to +42° that enables the vehicle to perform indirect fires.
The Pandur II CZ in the IFV configuration has been demonstrated in Indonesia fitted with a Brazilian ARES remote-controlled turret (RCT) armed with a Northrop Grumman Armament Systems 30 mm MK44 dual feed cannon and co-axial 7.62 mm MG.
It is also fitted with a computerised FCS and stabilised day/thermal sights incorporating a laser rangefinder for both commander and gunner, with the commander's panoramic sight mounted on the top left of the turret.
https://www.janes.com/article/84573/excalibur-army-eyes-indonesian-requirements-with-pandur-ii-cz
Abraços
3
« Última mensagem por tenente em Hoje às 10:08:00 pm »
Australia names Sea 1180 patrol vessel as Arafura class
Ridzwan Rahmat, Singapore - Jane's Navy International
15 November 2018
A computer-generated image of the Arafura class, which is being built under Australia's Sea 1180 Phase 1 programme. Source: Luerssen Australia/ASC
Key Points
• Australia has marked further progress in its Sea 1180 programme with the naming of its new OPV class and the start of steel welding on the first of class
• The programme's first of class is expected to be delivered by 2021
The Royal Australian Navy (RAN) has named the offshore patrol vessels (OPVs) that have been acquired under the country's Sea 1180 Phase 1 programme as the Arafura class.
The name was revealed on 15 November by the service's chief, Vice Admiral Michael Noonan. Named after a sea in the northern approach to Australia, the Arafura class has been acquired to replace the RAN's fleet of Armidale- and Cape-class patrol boats, Huon-class minehunters, and Leeuwin- and Paluma-class survey vessels.
The vessel has a standard displacement of 1,640 tonnes, with an overall length of 80 m, an overall beam of 13 m, and a hull draught of 4 m. It can take a crew complement of 40, with accommodation for up to 60 personnel.
Powered by two 8,500 kW diesel engines, the OPV can attain a maximum speed of 20 kt and a standard range of 4,000 n miles at 12 kt. It has been equipped with a flight deck for unmanned aerial system (UAS) operations, and can carry two 8.5 m and one 10.5 m rigid-hull inflatable boats (RHIBs) for maritime interdiction operations.
Each OPV will be armed with a 40 mm naval gun in the primary position and two 12.7 mm machine guns, while the suite of sensors includes the Scanter 6002 air and surface surveillance radar system from Terma, which will be incorporated with the EOS 500 electro-optical fire-control director.
The vessel will also be equipped with a 9LV-based Situational Awareness System (SAS) from Saab Australia.
https://www.janes.com/article/84615/australia-names-sea-1180-patrol-vessel-as-arafura-class
Abraços
4
« Última mensagem por Lusitano89 em Novembro 14, 2018, 03:42:05 pm »
Ministro da Defesa de Israel demite-se
5
« Última mensagem por Vitor Santos em Novembro 14, 2018, 01:47:16 pm »
Marinha concluirá licitação de U$ 1,6 bi em navios de guerra no 1º trimestre de 2019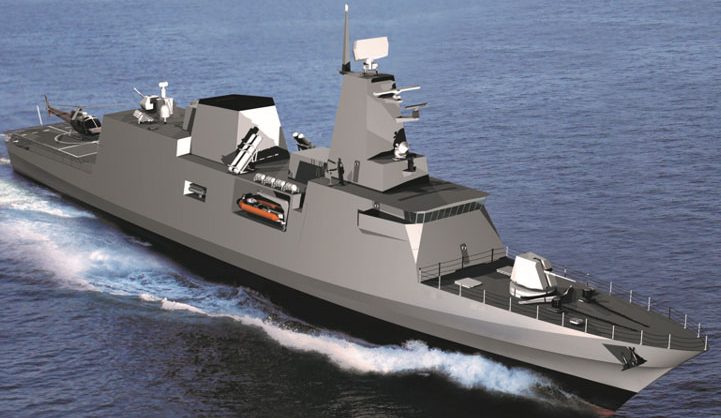 Por Taís Fuoco

(Bloomberg) — Uma licitação de pelo menos US$ 1,6 bi aguarda na gaveta a posse do novo Presidente da República. A Marinha divulgou em outubro a lista dos 4 consórcios selecionados numa licitação lançada ainda em junho, o Projeto Tamandaré, na qual se inscreveram 9 grupos para a fabricação de navios escolta.

A decisão final, inicialmente prevista para o fim de 2018, acabou adiada para o primeiro trimestre de 2019. Nos consórcios selecionados, figuram empresas como Embraer, Weg e Wilson Sons, além de grupos internacionais da França, Alemanha e Itália como Ficantieri, Thyssenkrupp Marine, Damen Schelde e Saab AB.

Leia aqui a lista dos consórcios selecionados e as empresas que deles participam.

A Marinha diz ainda não ter conversado com o presidente eleito Jair Bolsonaro (PSL), que toma posse em 1 de janeiro. O vice-almirante Petrônio Augusto Siqueira de Aguiar, diretor de gestão de programas da Marinha, disse que os critérios abrangem desempenho do navio, ciclo de vida, modelo de negócios e participação da indústria nacional, segundo entrevista por email à Bloomberg. Segundo ele, "houve a necessidade de postergar o prazo para permitir os refinamentos das propostas e negociações posteriores, a fim de garantir as condições apropriadas à decisão da melhor oferta", segundo resposta por email sobre o adiamento da escolha.

A licitação envolve navios de combate de superfície, capazes de enfrentar ameaças aéreas, outros navios e submarinos. O projeto Classe Tamandaré envolve corvetas ou fragatas leves. A licitação em aberto envolve a escolha de um consórcio para produzir 4 corvetas.

"O projeto trará a possibilidade de geração de cerca de 2.000 empregos diretos, além dos indiretos, com o envolvimento das empresas nacionais de construção naval, bem como da base industrial de defesa, disse o vice-almirante.

Definir o vencedor dessa licitação não será o único desafio do futuro governo: a Marinha tem hoje 11 navios escolta, com idade média de mais de 30 anos, próximos do fim de sua vida útil.

"A Marinha precisará repor os navios que vão sair de serviço para não ter sua capacidade mínima de combate ainda mais comprometida. Até 2025 pelo menos mais seis navios serão desativados, pois sua vida útil está chegando ao fim", disse o ex-integrante da Marinha e consultor em assuntos militares Alexandre Galante.

"A Marinha tinha o projeto Prosuper, engavetado durante o governo Dilma, que previa a aquisição de 5 navios escolta de 6.000 toneladas de deslocamento, ou seja, navios com o dobro do deslocamento do Projeto Tamandaré ora em curso", disse. "O Prosuper deve ser retomado tão logo a situação econômica permita e mais um lote de corvetas Tamandaré deve ser encomendado no futuro", acredita. Compras de oportunidade podem surgir para preencher a lacuna deixada entre a desativação dos navios atuais e a entrada em serviço dos novos navios, disse o consultor.
FONTE:
https://www.naval.com.br/blog/2018/11/12/marinha-concluira-licitacao-de-u-16-bi-em-navios-de-guerra-no-1t19/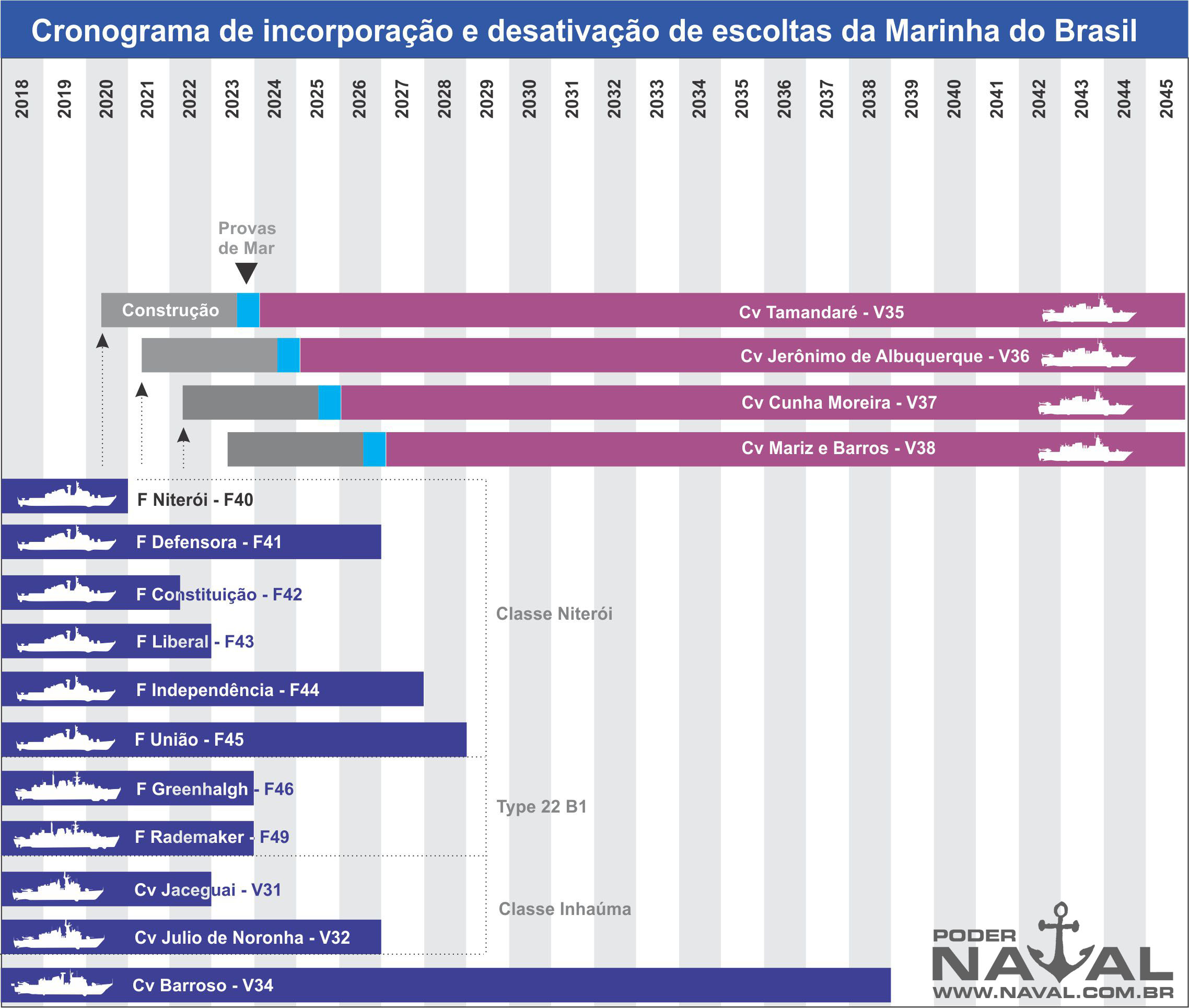 6
« Última mensagem por mafets em Novembro 14, 2018, 01:44:34 pm »
https://www.tactical-life.com/firearms/handguns/first-look-remington-model-700cp-pistol/?fbclid=IwAR08LF_kSOhC0LwPd7g1xl924RzVA3-oRfWlR9gTg17Ky4MhFvCt7qZYXEs
The Remington Model 700CP Build
Remington aficionados will remember the XP-100 bullpup bolt-action pistol that still has its cult following. The 700CP is looking to pick up where that pistol left off.

It is a true bolt action, but with a pistol grip and a short barrel. The barrel comes in two different lengths, depending upon which of the three calibers it is chambered for:

.308 = 12.5 inches
.223 & .300 AAC Blackout = 10.5 inches

he guns are setup to be used with any AI (Accuracy International) pattern magazines in this chassis. The model I shot had Magpul magazines.

The top has an 8-inch removable Picatinny rail. The forend is free floated and features M-LOK attachment points on all eight sides for the full length.

A word about scopes on this pistol. It needs one. There are no iron sights. And your rifle scopes won't work very well. You need to use a pistol scope. It is simply a matter of eye relief.

Instead of your eye sitting 2 inches behind the scope, your eye sits about 15 inches back. Remington fit the test pistol I shot with a Leupold 4X power fixed scope. It worked well and finding the reticle proved easy.
Cumprimentos
7
« Última mensagem por mafets em Novembro 14, 2018, 01:37:56 pm »
https://fighterjetsworld.com/2018/07/12/when-a-boeing-kc-135-stratotanker-exploded-due-to-a-stupid-mistake/?fbclid=IwAR3jWaPb07Y06kiLFAm4H8gPpn9GTjEe4x45YVI196BVSyYNXmwqNEEvxyk
On Wednesday 7 April 1999 a Boeing KC-135R Stratotanker of USAF registration number Registration: 57-1418 Exploded during a pressure test at Oklahoma City-Tinker AFB

During Pressure, the test crew didn't pay attention to one minor detail and did not follow instructions and checklists and as a result of their negligence KC-135 Exploded

According to the excerpt "a KC-135 Aircraft was being pressurized at ground level. The outflow valves which are used to regulate the pressure of the aircraft were capped off during a 5-year overhaul and never opened back up.

The post-investigation revealed: that a civilian depot technician who, "had always done it that way," was using a homemade gauge, and no procedure.

The technician's gauge didn't even have a max "peg" for the needle and so it was no surprise he missed it when the needle went around the gauge the first time. As the technician continued to pressurize the aircraft, and as the needle was on its second trip around the gauge the aircraft went "boom" – the rear hatch was blown over 70 yards away, behind a blast fence!
Saudações
8
« Última mensagem por Vitor Santos em Novembro 14, 2018, 01:09:50 pm »


9
« Última mensagem por Vitor Santos em Novembro 14, 2018, 01:08:13 pm »
10
« Última mensagem por Vitor Santos em Novembro 14, 2018, 01:07:48 pm »
Comando de Operações Especiais recebe Ministro da Defesa
No dia 05 de novembro de 2018, o Comando de Operações Especiais (COpEsp) recebeu a visita do Excelentíssimo Senhor Ministro da Defesa, Joaquim Silva e Luna. Na oportunidade, o Comandante do COpEsp, General Mario Fernandes, apresentou ao Ministro o
projeto da nova estrutura do Complexo de Tiro que vai ser construída nessa Organização Militar, e que contará com dois estandes de tiro, um de 100 e outro de 200 metros, além de um cenário urbano e uma torre para técnicas verticais
.
A previsão para o início da construção do novo Complexo de Tiro do Comando de Operações Especiais é para o ano de 2019
, as novas instalações serão utilizadas em atividades de adestramento e emprego das tropas de ação rápida.
O Ministro da Defesa foi recebido por uma Guarda de Honra, participou de uma formatura no Campo de Parada e conheceu, acompanhado de sua comitiva, as instalações do COpEsp.
Assistiu ainda a demonstrações no Simulador de Tiro e de Queda Livre, Entrada Tática na Casa de Matar e Tiro Assistido no Estande de 200m
.
FONTE:
http://www.copesp.eb.mil.br/index.php/component/content/article?id=290